MICROBLADING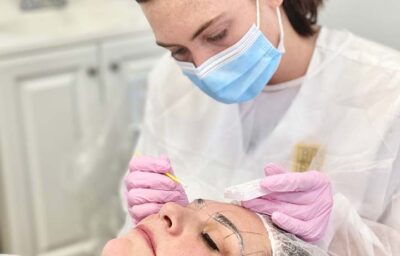 Microblading is a new, revolutionary, semi permanent eyebrow procedure. It is performed by implanting pigment under the epidermis of the skin manually. This technique is done by pulling or swiping a manual pen and very fine blades across the skin to create one by one fine hair strokes.
HISTORY OF MICROBLADING
Microblading technique originated in China 25 years ago, then spread all over Asia. This technique first became very popular in countries like Singapore, Japan and Korea by early 2005. In each Asian country Microblading carried different names; such as "feather tattoo" in China, "microstroking" in Japan and "eyebrow hand embroidery" in Korea. It spread all over Europe from 2010 to 2013, then to the US in early 2014 to 2015. We are happy and proud to be one of a very first, original, specialized Microblading clinics in America with over 6000 happy clients from all over United States.
BEFORE CARE
Please note: During consultation we discuss everything client needs to know about the treatment and prepare each client beforehand.
Do not work out on the day of the procedure
Do not drink coffee on the day of the procedure
Do not tan. No sun 30 days prior and 30 days after the procedure
Do not take aspirin, niacin, vitamin E, ibuprofen, fish oil.
No alcohol the night prior or on the day of the procedure
Any waxing or tinting of the brows should be done 3 days prior
No botox for 4 weeks prior to the procedure
Stop using any Retin-A or AHA products for 2 weeks prior to the procedure
No lasers or chemical peels for 1 month prior to the procedure
No microdermabrasion or dermaplaning for 2 weeks prior
MICROBLADING AFTERCARE INSTRUCTIONS
It is very important to care for you brows. Please review and follow these microblading aftercare instructions. Keep your face away from water. Wash your face carefully around the eyebrows without getting water on the treated area. If you feel dust or discomfort on the treated area, wipe it gently with an alcohol wipe.
Washing your face:
Wash your hands with a disinfectant soap before washing your face or applying the post-care cream or oil.
Do not wash your face with alkaline soaps for a period of 5 to 7 days.
Use gel or neutral base soaps (Neutrogena or Oats).
Do not wipe your face with towels (15-21days).
Additional Tips:
Apply the post-care creams or oils with a cotton swamp and use no aggressive movements.
No rubbing and no picking the area. Peeling is absolutely normal during the second phase of recovery. Avoid any sort of peeling of dry skin as you might peel out the wrong parts and create bald spots in the newly reconstructed brow.
Keep you hair away from you face.
No makeup or anti aging creams on the brow area for at least 10 days.