LIP BLUSHING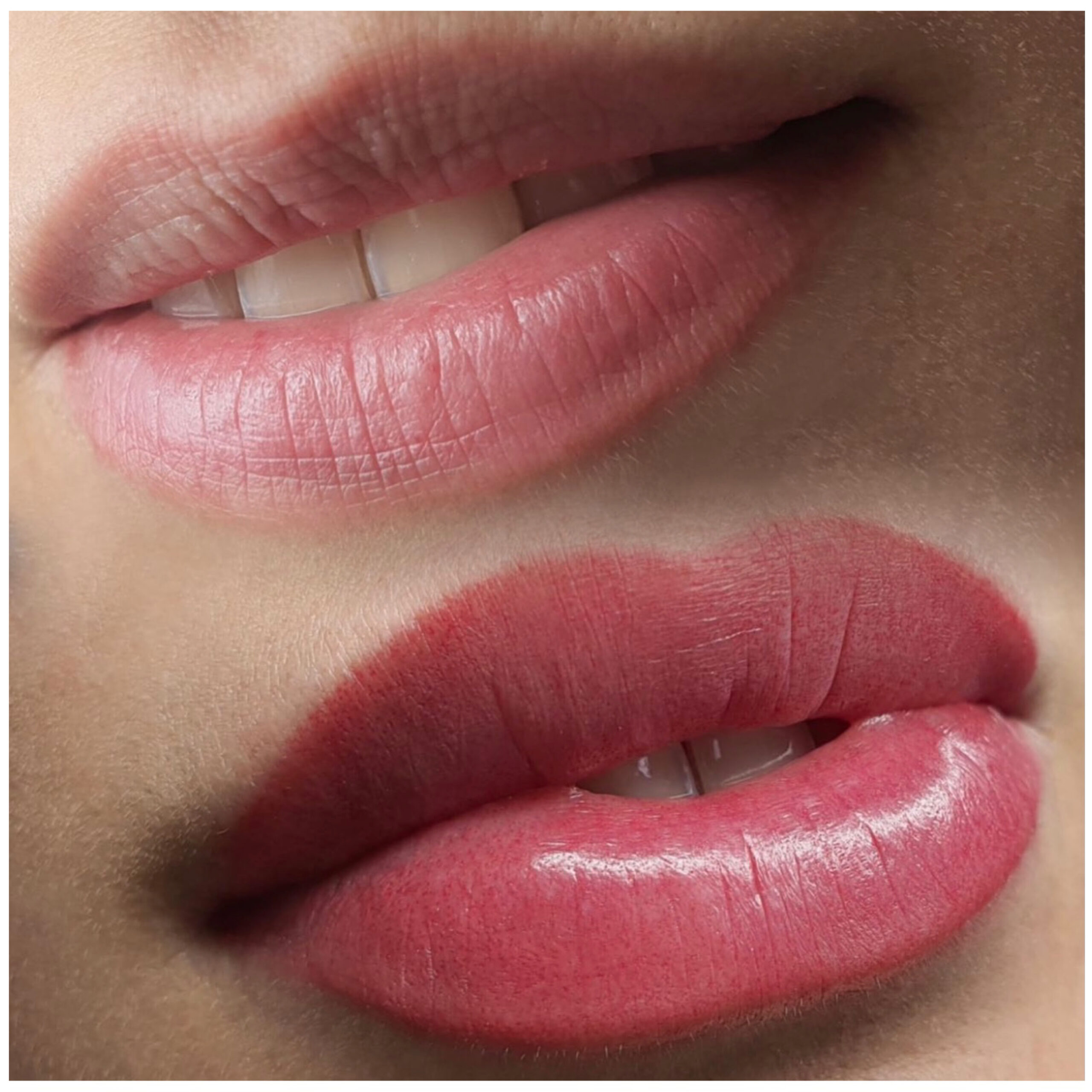 Lip blush is a semi permanent makeup procedure that gives your lips natural lip color. It is achieved by depositing pigment into your lips by using a small needle to apply multiple delicate layers of pixels to help create an even and natural tone. This procedure is perfect for both men and women.
OMBRE LIPS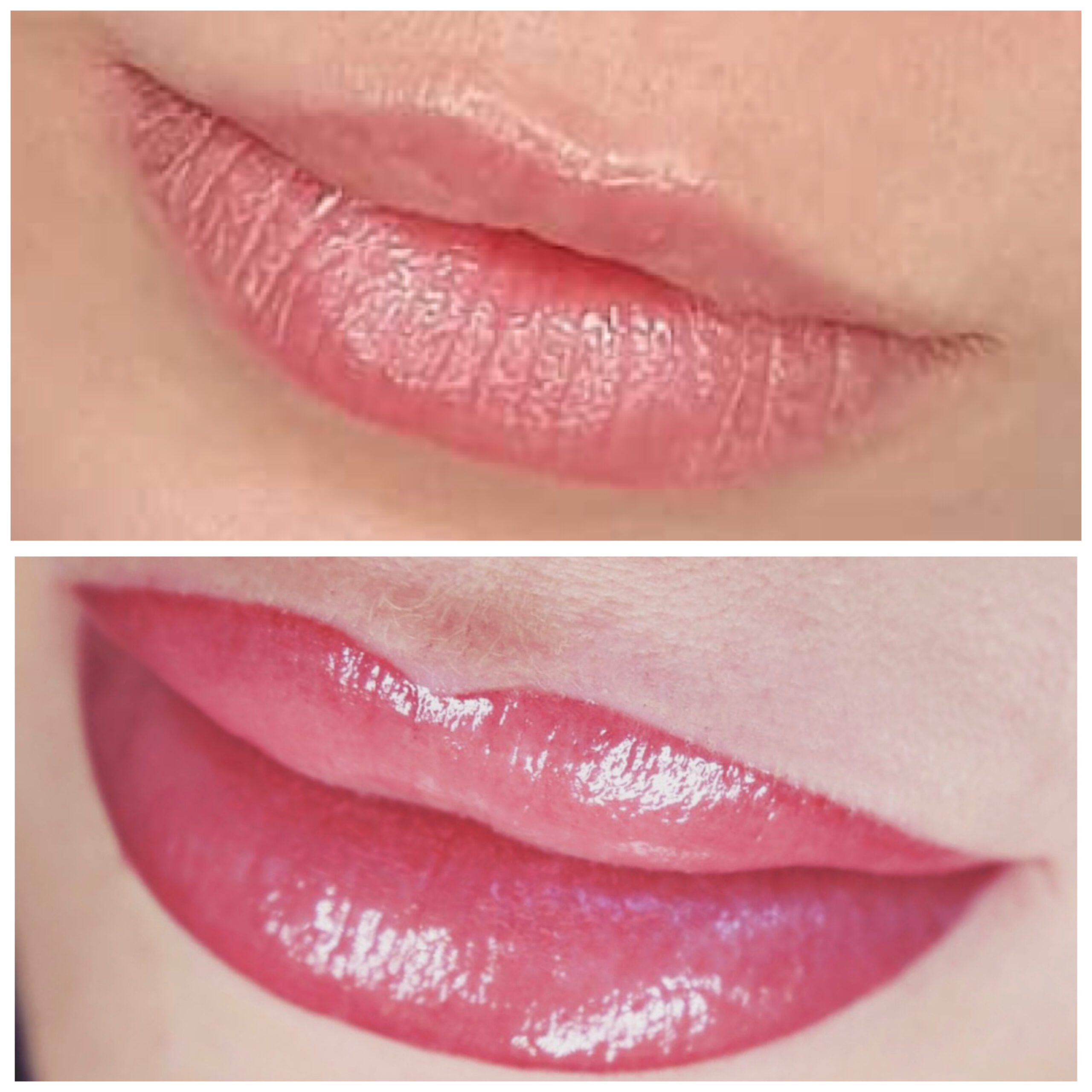 OMBRE LIPS or a lip liner with soft blending – a new style of semi permanent lip procedure. This style is perfect for anyone who likes a makeup effect! We create a soft lip liner first that is slightly darker, then a lighter color is blended throughout the inner part of the lips, where it gradually blends into your own natural lip color.
BEFORE CARE:
Please note: During consultation we discuss everything client needs to know about the treatment and prepare each client beforehand.
No coffee and alcohol
Do not tan
Do not take aspirin, niacin, vitamin E, ibuprofen, fish oil
No lasers or chemical peels
No microdermabrasion or dermaplaning for 2 weeks prior procedure
The following must be avoided for 2 weeks:
Swimming in a pool
Hot sauna, hot bath, or Jacuzzi
Sun tanning or salon tanning
Spicy foods
Salty foods
Smoking
Drinking alcohol
Citrus or acidic juices
Milk
Makeup
AFTER CARE:
Keep your lips clean and dry for 4 days
Drink through a straw first 4 days
No kissing ( until the scabs are all gone)
Dab lips with clean, cool and wet washcloth or cotton
Do not touch, rub, scratch, pick or peal your lips
From the fifth day use provided lip aftercare ointment twice a day
WHAT TO EXPECT:
Day 1 Swelling, tender, heavy thick lipstick look with a reddish brick color effect.
Day 2 Slight swelling, reddish and tender.
Day 3 Less swelling, thicker texture, sore, hot feeling before exfoliation with an orange color effect.
Day 4 Exfoliation begins, chapped lips.
Day 5 Chapped lips, but almost finished with first chapping stage.
Day 6 A soft, rich color begins to appear.
Days 7-13 Lip color disappears and the "frosty" (2nd chapping) stage begins as a whitish/grayish haze on the lips.
Day 14 Color "bottoms" from within more and more each day until day 21 (3 weeks post procedure.
Day 21 Healing complete; the color you see is the color you have.
AFTER 28-40 Days you are ready for your touch up!
PERMANENT LIP COLOR FEE:
Lip blush : $1000
Touch up: Included
Ombre lips: $1000
Touch up: Included
3D Candy lips: $1500
Touch up: included
THE FEES FOR PERMANENT MAKEUP COVERS:
Initial full procedure visit and second touch up visit within 60 days
Custom design for every client
Complete review of medical history
Skin analysis
Digital equipment with all disposable, sterile needles
PPE products
Premium 100% plant based pigments
Premium skincare cleansing products
Anesthetic/numbing products
An exclusive 100% plant based aftercare ointment to take home
Brow Design By Dina aftercare book & guide
CONSULTATION
HERE IS WHAT YOU NEED TO KNOW BEFORE YOU SCHEDULE YOUR CONSULTATION AT BROW DESIGN BY DINA.
Because the color and shape of the lips are as unique as the individual, we always begin with a free consultation. At the consultation, your color and shape objectives and probability of success with permanent cosmetic pigments and techniques will be discussed.
Our consultation is free and lasts about 30 min.
We do not perform consultations and procedures on the same day. We explain how it's done, what is involved and prepare each client for a procedure. There are many things the client must avoid before getting any PMU procedure. All of that will be discussed on your consultation visit.
We kindly ask you to come for your consultation with no makeup so we can evaluate your true skin undertone. Skin undertone has a lot to do with how your eyebrow color will behave and appear on the skin once healed. (more information about skin undertones can be found on our website. Go to the menu, click on skin types)
We kindly ask you to read all provided information and FAQ on our website before coming for your consultation. (such as color, eyebrow shapes, skin types, pricing, touch ups and more) If you have more questions please prepare them in advance.
Please do not schedule or try to come for your consultation visit without letting Dina know if you already had any PMU work done.
An extra guest may come with you on your consultation visit. We will be happy to greet them with some expresso coffee and water.
Please don't be late. We value our clients time and those who travel to see us from other states. If you are late, Dina will not be able to provide you with a quality consultation and answer all of your questions.
If You need to reschedule or cancel your consultation please give Dina 24 hours notice.
No shows – will not be able to schedule consultations/procedures in the future.
If you are planning a vacation, please make sure you mention that to Dina on your consultation visit. Sun exposure, ocean, chlorine and salt will be a reason to postpone your PMU procedure for one month. These conditions will cause your PMU procedure to have a poor outcome. Sweat and heat will cause an immediate fading, sun exposure and chlorine can change PMU color.
NOTE: DUE TO THE AMOUNT OF PERMANENT MAKEUP RECONSTRUCTIONS, YOUR PRICE MAY CHANGE IF YOUR PERMANENT MAKEUP WAS NOT DONE BY DINA! (A consultation will determine if any special requests, conditions or circumstances would take extra time beyond the typical.)
PROCEDURE
HERE IS WHAT YOU NEED TO KNOW BEFORE YOU SCHEDULE YOUR PROCEDURE AT BROW DESIGN BY DINA.
When you schedule your procedure, a $500 deposit will be required. Remaining balance will be paid on the day of the procedure.
Please follow the "BEFORECARE" instructions provided at your consultation. They will give you information you should do prior to your procedure. Failure to follow these instructions prior to your procedure may result in a less than perfect outcome or even a cancellation of the procedure.
Our office will contact and confirm all scheduled procedures 48 hours before.
Please arrive 15 min before your procedure to fill out all necessary paperwork and complete the payment.
No guests are allowed on your procedure day.
Please arrive with no makeup and a clean face.
If you need to reschedule or cancel your appointment, please contact Dina 48 hours prior procedure.
If you miss your procedure, you will be charged $250
No shows will not be able to schedule another procedure in the future.
DISCLAMER: Dina can refuse service to anyone for any reason at her discretion.
Dear Clients!
Thank you very much for looking at Brow Design by Dina and thinking of us to participate in your future beauty transformation.
Here at Brow Design by Dina, I strive to provide my clients with a unique, one of a kind, permanent makeup experience. I have dedicated myself to the pursuit of perfection on each one of my clients.
It is a joy and a dream to serve so many of you and for you to allow me to help make your dreams and mine come true. I have always dreamed of creating something so special and beautiful, that everyone will love and enjoy, and to provide my community with nothing but the best in every way. And today, I feel humbled and grateful to be everyone's choice for so many years.
Sincerely,
Dina Richardson