POWDER BROWS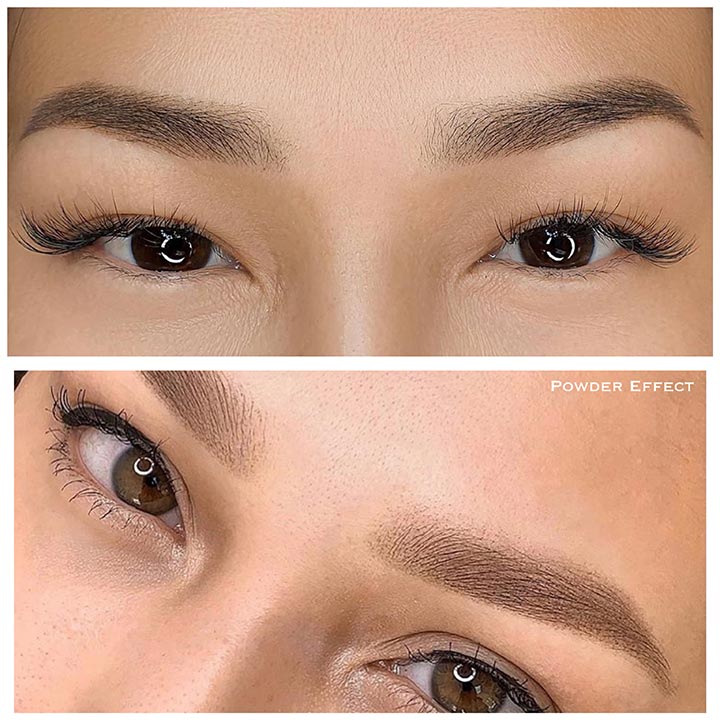 Dina's absolutely favorite!
They look a lot like your natural brows, extremely fluffy and soft, with no harsh front or outline.
During this type of procedure, thousands of tiny little dots/pixels of pigment are inserted into the skin, gradually building up a color and a defined shape. This is a very precise method. This type of brow is done using a digital device with a fine 1 point needle and is absolutely not painful even for extremely sensitive clients. For all skin types.
OMBRE BROWS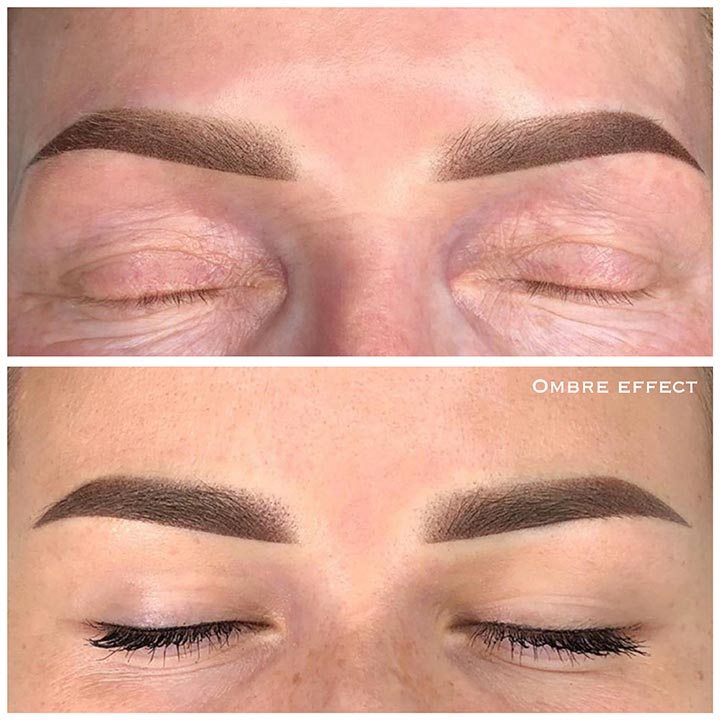 This style of brow is extremely popular right now!
We use the same pixel application method like on POWDER BROWS but the color,(which is also applied with the digital device) gets inserted into the skin deeper in certain parts at the brow. The tail, at the end of the brow, is a lot darker, while slowly and gradually fading. It looks a lot more natural at the beginning of the brow. This gives brows a beautiful more defined makeup look, with delicate outline. Since the brow will look very perfect, it is a good look for people who wear lot of makeup on a daily basis. Ombré brows will also last longer than powder brows due to the color being applied deeper to create that perfect makeup look.
Custom, tailored eyebrow design-this is what we are famous for. Our unique 3D eyebrow design is an exclusive service, provided only at Brow Design By Dina.
A perfect permanent eyebrow procedure is more than just ART, it is a SCIENCE. The true PMU artist can and should be able to see potential changes in the face years later. These facial changes would be due to changes in bone structure, muscles, skin, existing wrinkles and most importantly future wrinkles!
At Brow Design By Dina we take our clients very seriously when it comes to service and choosing your "own" perfect eyebrow shape. Every single brow is custom designed for each individual client. Not satisfied shape & color is never an issue at our place!
We spend 1-1.5 hours with our clients creating a perfect shape, discussing major details before procedure itself begins. This gives OUR CLIENTS an opportunity to be completely involved in creating and choosing their own look. That's what makes our clients happy, and that's what we truly want – to help them get their desired look!
At Brow Design By Dina we only use "organic" 100% plant based pigments. We are proud to be the only PMU clinic in Louisiana offering our clients the finest Permanent Makeup products from Switzerland, Israel, Germany and Japan.
Please note: During consultation we discuss everything client needs to know about the treatment and prepare each client beforehand.
Do not work out on the day of the procedure
Do not drink coffee on the day of the procedure
Do not tan. No sun 30 days prior and 30 days after the procedure.
Do not take aspirin, niacin, vitamin E, ibuprofen, fish oil.
No alcohol the night prior or on the day of the procedure
Any waxing or tinting of the brows should be done 3 days prior
No botox for 4 weeks prior to the procedure
Stop using any Retin-A or AHA products for 2 weeks prior to the procedure
No lasers or chemical peels for 1 month prior to the procedure
No microdermabrasion or dermaplaning for 2 weeks prior
WHAT TO EXPECT AFTER YOUR PROCEDURE
Your new temporary eyebrow will go through several phases during the healing cycle.
The pigment will appear very sharp and dark immediately after the procedure. This is because the pigment is still sitting on top of your skin, and has not yet settled in completely. Once the healing of the skin starts taking place, it will look like dandruff flakes or dry skin. This might give you the impression that the color pigment is fading too quickly; however, this is just superficial color and dry skin being naturally removed from your eyebrows.
Once completely healed, always apply a layer of sunscreen SPF 30 up to SPF 50 on your eyebrows when exposed to the sun. Sun exposure might cause the color pigment to fade away more quickly.
Entire healing process for pixel application will take from 4 weeks.
POWDER & OMBRÉ EYEBROW FEE: $1000
TOUCH UP: Included.
THE FEES FOR PERMANENT MAKEUP COVERS:
Initial full procedure visit and second touch up visit within 60 days.

Custom design for every client

Complete review of medical history

Skin analysis

Digital equipment with all disposable, sterile needles

PPE products

Premium 100% plant based pigments

Premium skincare cleansing products

Anesthetic/numbing products

An exclusive 100% plant based aftercare ointment product to take home.

Intake Brow Design By Dina aftercare book & guide.
HERE IS WHAT YOU NEED TO KNOW BEFORE YOU SCHEDULE YOUR CONSULTATION AT BROW DESIGN BY DINA.
Our consultation is free and lasts about 30 min.
We do not perform consultations and procedures on the same day. We explain how it's done, what is involved and prepare each client for a procedure. There are many things the client must avoid before getting any PMU procedure. All of that will be discussed on your consultation visit.
We offer our clients a virtual eyebrow design, on their face, during the consultation. This will allow the client to actually see what each brow shape will look like before getting the procedure.
We kindly ask you to come for your consultation with no makeup so we can evaluate your true skin undertone. Skin undertone has a lot to do with how your eyebrow color will behave and appear on the skin once healed. (more information about skin undertones can be found Here.
We kindly ask you to read all provided information and FAQ on our website before coming for your consultation. (such as color, eyebrow shapes, skin types, pricing, touch ups and more) If you have more questions please prepare them in advance.
Please fill out our new patient forms that are provided on our website when you come for your consultation, it will save time and help to not run behind. (This is only if you are planning on receiving Dina's virtual eyebrow design – virtual eyebrow design takes about 15-20 min.)
Due to Dina's busy teaching schedule she is limiting the number of clients per month. She is unfortunately not taking clients with poor PMU and Microblading experiences and does not do any kind of repair and reconstruction procedures like she used to. Exceptions would be if your brows have FULLY faded or were removed with laser tattoo removal. If this was the case, then please submit your eyebrow pictures to browdesignbydina@gmail.com.
Please do not schedule or try to come for your consultation visit without letting Dina know if you already had any PMU work done.
An extra guest may come with you on your consultation visit. We will be happy to greet them with some expresso coffee and water.
Please don't be late. We value our clients time and those who travel to see us from other states. If you are late, Dina will not be able to provide you with a quality consultation and answer all of your questions.
If You need to reschedule or cancel your consultation please give Dina 24 hours notice.
No shows – will not be able to schedule consultations/procedures in the future.
If you are planning a vacation, please make sure you mention that to Dina on your consultation visit. Sun exposure, ocean, chlorine and salt will be a reason to postpone your PMU procedure for one month. These conditions will cause your PMU procedure to have a poor outcome. Sweat and heat will cause an immediate fading, sun exposure will turn your brows extremely dark and chlorine can change your eyebrow color to grey.
NOTE: DUE TO THE AMOUNT OF PERMANENT MAKEUP RECONSTRUCTIONS , YOUR PRICE MAY CHANGE IF YOUR PERMANENT MAKEUP WAS NOT DONE BY DINA! (A consultation will determine if any special requests, conditions or circumstances would take extra time beyond the typical.)
HERE IS WHAT YOU NEED TO KNOW BEFORE YOU SCHEDULE YOUR PROCEDURE AT BROW DESIGN BY DINA.
When you schedule your procedure, a 50% deposit will be required. Remaining balance will be paid on the day of the procedure.
Please follow the "BEFORECARE" instructions provided at your consultation. They will give you information you should do prior to your procedure. Failure to follow these instructions prior to your procedure may result in a less than perfect outcome or even a cancellation of the procedure.
Our office will contact and confirm all scheduled procedures 48 hours before.
Please arrive 15 min before your procedure to fill out all necessary paperwork and complete the payment.
No guests are allowed on your procedure day.
Please arrive with no makeup and a clean face.
If you need to reschedule or cancel your appointment, please contact Dina 48 hours prior procedure.
If you miss your procedure, you will be charged 50% of your deposit.
No shows will not be able to schedule another procedure in the future.
DISCLAMER
Dina can refuse service to anyone for any reason at her discretion.
Dear Clients!
Thank you very much for looking at Brow Design by Dina and thinking of us to participate in your future beauty transformation.
Here at Brow Design by Dina, I strive to provide my clients with a unique, one of a kind, permanent makeup experience. I have dedicated myself to the pursuit of perfection on each one of my clients.
It is a joy and a dream to serve so many of you and for you to allow me to help make your dreams and mine come true. I have always dreamed of creating something so special and beautiful, that everyone will love and enjoy, and to provide my community with nothing but the best in every way. And today, I feel humbled and grateful to be everyone's choice for so many years.
Sincerely,
Dina Richardson