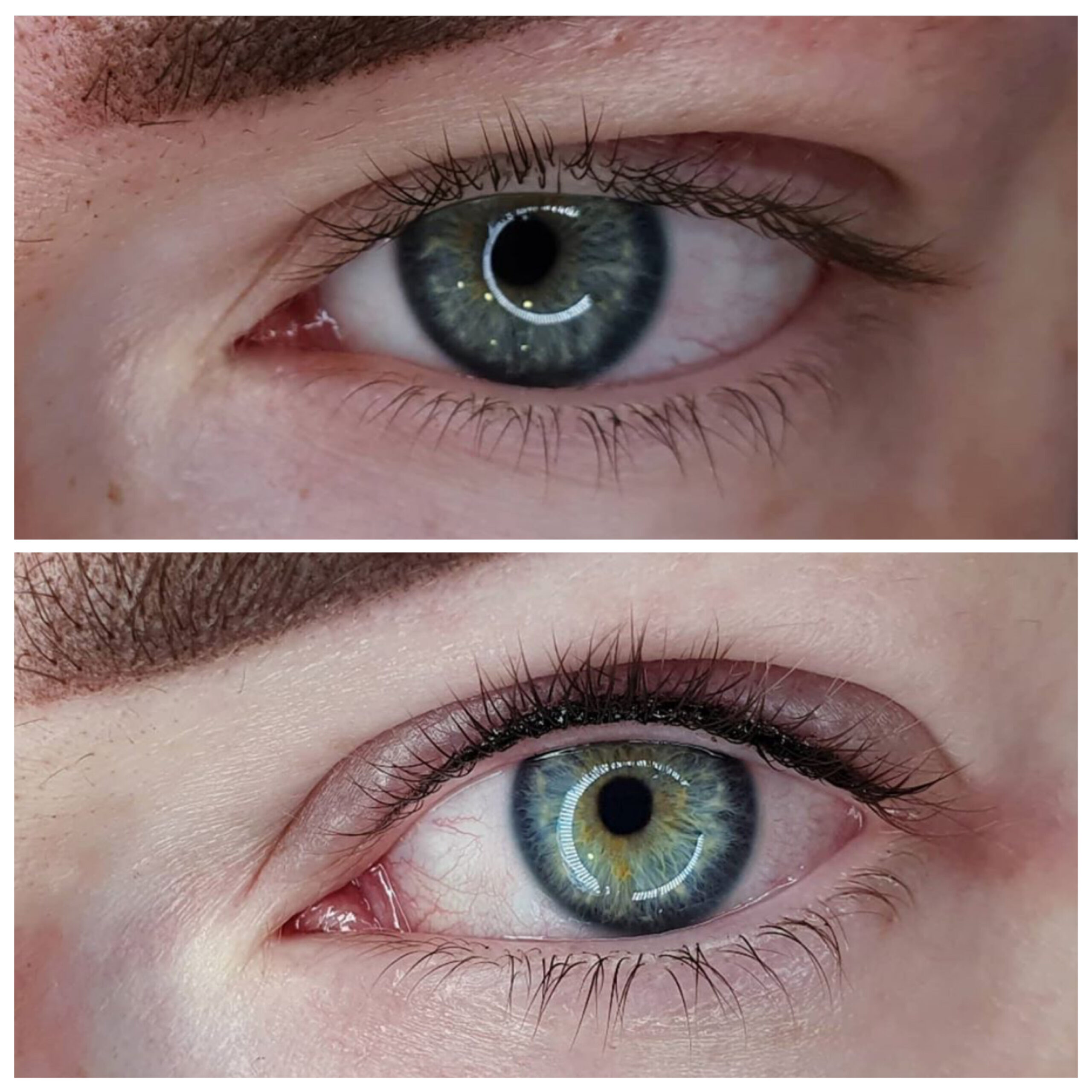 What Is Eyelash Enhancement?
Eyelash Enhancement is meant to create the appearance of thicker eyelashes. This treatment adds color, thickness and definition to the lash line and enhances the eye area by making eyes look more defined. Some of the more common reasons to get eyelash enhancement include: asymmetrical eyes, eyes that are too small, aging eyes that are looking tired and wanting thicker eyelashes.
Our clients have many reasons for wanting eye procedures done and we want to correctly and accurately direct them to what is best for them. As experts we take into consideration facial asymmetry, aging process, color fading and color migration, just to name a few, in order to help our clients select the best shape and procedure for them.
For example; some clients prefer the eyeliner to be wedged and others like it domed, it will be up to us to direct our client to the best choice. Remember, when it comes to the eyes, its better to keep your procedures more conservative. This will help you look healthier, stay looking better, longer and produce fewer problems from your procedure in the future.
Eyelash Enhancement Care
BEFORE CARE:
Please note: During consultation we discuss everything client needs to know about the treatment and prepare each client beforehand.
Do not drink coffee on the day of the procedure
Do not tan. No sun 30 days prior and 30 days after the procedure.
Do not take aspirin, niacin, vitamin E, ibuprofen, fish oil.
No alcohol the night prior or on the day of the procedure
Stop using any Retin-A or AHA products for 2 weeks prior to the procedure
Do not wear contact lenses during procedure and 24 hours after getting your procedure done.
Have sunglasses available.
WHAT TO EXPECT:
There may be swelling and redness for the first 5 days.
During the initial healing period, there should be minimal scabbing or flaking of the skin.
Eyes may feel dry or irritated.
The color will look darker.
Expect the color lighten up by 40%.
CAUTIONS:
Do not pick, rub or peel off your scabs, to avoid bald spots, scars or infection (itching is normal as skin is repairing itself)
Keep the treated area clean and dry (use clean towel or tissue to dry it)
Avoid environments that would cause dirt or germs to contact area while healing
Wash daily with a light touch to remove bacteria, use gentle soap, dry with a clean tissue.
Do not expose the treated area to sun or tanning bed ( 30 days)
Do not sweat and exercise after the procedure for a week
Keep your hair away from your face
No makeup on the treated area ( 2 weeks)
Do not use mascara until outer healing is complete
Do not sleep on your face
No face-down swimming in pool, sea, lakes, and hot tubs for the first 7-10 days
No perm, or use an eyelash curler for 2 weeks
No eyelash serums or growth stimulation products, they might cause pigment migration
Do not use Vaseline or other petroleum products
No bleach or dye (30 days)
No anti-aging products around eyes containing AHAs, Retin-A, Lactic, Glycolic Acids. (these will fade permanent makeup, since creams travel in the skin)