Microblading: What exactly is it?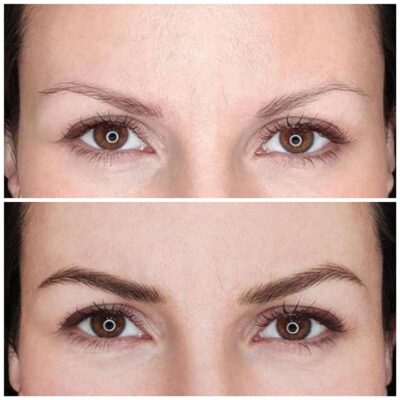 Eyebrow trends come and go and have changed through the decades. Our taste when it comes to how we want our eyebrows to look has evolved from very thin and rounded arches in the 1920's, to arched and bushy in the 1950's, to thick and natural in the 1980's, and to somewhat bushy again in the early 2000's.
The techniques how we get our eyebrows in shape have been changing too. There is, of course, plugging, but also waxing or threading. The latest trend in eyebrow design is called Microblading.
How Does It Work?
Microblading is a semi-permanent eyebrow procedure. It is a new, superficial solution to sparse, over-plucked, over-waxed, and thinning eyebrows. It is a tattoo technique that fills brows out or reshapes them by drawing on tiny lines that look like individual hairs. It is ideal to cover scars and gaps, define shape, create an arch and fill in the brows.
 "This is a perfect technique for people with thin hair or no hair because it looks so natural," says Dina Richardson, owner of Brow Design By Dina.
This procedure is perfect for both men and women. Eyebrow Microblading is a way of implanting pigment under the epidermis using a specially designed fine blade that is three times thinner than the blade used in a machine. This allows for the creation of very fine, crisp, realistic hair strokes that do not blur after healing.
How long the results last depends on many factors including the thickness and oil levels of a person's skin, how much they sweat and how humidity affects them. The results can last between one and three years, according to experts.
What Are The Advantages?
Having semi-permanent eyebrows is convenient and allows you to get ready faster in the mornings. If you have sensitive skin, you don't have to worry about finding the right eyebrow make up that does not make you break out.
It also gets rid of the hassle of trying to fix your eyebrows while wearing glasses. Semi-permanent eyebrows can help cover up possible scars you may have in the area that may not allow brows to grow.
You will have perfect looking eyebrows every day and don't have to worry about smears or makeup disappearing throughout the day even if during and active day outdoors or at the beach.