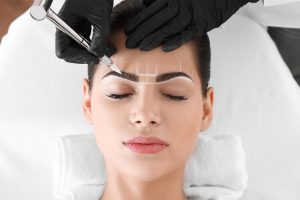 Eyebrows help accentuate your eyes, shape your face and even play a rather important role in communication. Over plucked, unkempt or scarred eyebrows can make you look older and will make you appear less refined. Nobody is born with perfect eyebrows, that is why it is important to routinely trim and shape them and sometimes you will have to fill them in. If your eyebrows need some help and you want to cut down a little bit on the maintenance time of your eyebrows, microblading is the perfect procedure for you. Microblading is a tattoo technique that will give you beautiful natural looking eyebrows. There are several eyebrow trends you should know about before getting your eyebrows done.
What Are The Latest Trends?
Just like fashion trends and beauty  standards change over time, so do eyebrow trends. Soft and more naturally looking brows appear to replace bold and overly-defined eyebrows. Just because they are softer looking does not mean they appear sparse. Another trend are darker  eyebrows that appear a little grown out. The so-called feather look, a naturally fuller looking shape, is also very popular right now.
Choose Dina For Your Brows
Not only does Dina know about the latest trends, she will always find the right eyebrow shape that fits your face and your style. Dina has been involved in art for many years, with her emphasis on portraits for many years. She has an excellent eye for facial features, bone structure and artistic beauty.  Take a look at Dina's amazing portfolio: https://browdesignbydina.com/photos/
"Dina is a perfectionist! Part artist, part technician." – Recent Client

Dina has not only many years of experience in the permanent makeup and microblading, she also holds certifications in permanent makeup from East Asia, Central Asia, Eastern Europe and the U.S. Dina has worked with some of the best permanent makeup artists from around the world. Dina's natural ability and international background in permanent makeup has set her apart from everyone else in the permanent makeup field. She became very successful and recognizable due to her extensive background and has performed thousands of permanent makeup procedures on clients from all over the United States and World.