Protect Yourself From Illegal Microblading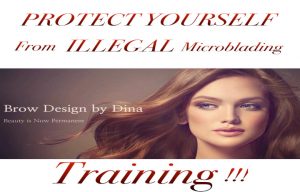 Are you considering getting permanent makeup done? Here is what you need to know before picking just anyone to perform the procedure. All permanent makeup and microblading shops must must be approved by the Louisiana Department of Health.
On February 5, the Louisiana State Board of Cosmetology issued a ruling via a declaratory order that microblading is permitted in its licensed facilities as long as the activity takes place in a dedicated room with a door and it is performed by a department (LDH)-registered operator and under the auspices of an LDH registration (facility).
For more information visit: http://ldh.la.gov/index.cfm/page/622
Not Everybody Can Perform Microblading
"Microblading is a very capricious technique with many limitations that you have to take into consideration," says Dina Basman owner of Brow Design by Dina. Lately, she has seen a growing number of clients who had poor microblading done to them and are now asking her to fix the problem. "It is literally becoming a serious epidemic problem," she says.  Professionals who perform microblading or teach the technique have to be registered with the Louisiana Department of Health. "Please do your research," she urges clients. If you are thinking about learning the technique, you will also have to make sure that your trainer has all her/his paperwork in order, otherwise, the training could be illegal.  If the facility that is responsible for issuing a certificate in microblading does not possess all required licenses and permits,  it will be waste of money and time because  your certificate will not be approved by the Louisiana Department of Health. 
For a full list of Health Department requirements click here: http://ldh.la.gov/index.cfm/page/622
Training By Dina Basman
Dina has certifications in permanent makeup from East Asia, Central Asia, Europe, Eastern Europe and the U.S. and has worked with some of the best permanent makeup artists from around the world. Her training and experience have led to the most outstanding makeup artists in the area. She has all the required permits and licenses, including a Blood-borne Pathogen & Communicable Disease License, a Department of Health Tattoo Artist License and Biomedical Waste permit, to perform and teach microblading. For a full list of her licenses and permits  click here: https://browdesignbydina.com/meet-dina/ 
If you would like Dina Basman to teach you microblading take a look at the classes she offers:
Permanent Makeup Basics
4 Day Training – $5000
3 Zones: Brows, Eyes, and Lips

Certificate on Completion

Study Manuals and Medical Consent Forms

Business Model

Live Model

One-on-One Instruction

8 hours of training each day

Supplies

Lunch and Coffee included
All Brows
3 Day Training – $4000.00
Microblading, (hand tool)

Ombre, Shading (machine method)

Certificate on Completion

Study Manuals and Medical Consent Forms

Live Model

One-on-One Instruction

8 hours of training each day

Business Model

Supplies

Lunch and Coffee included
Scalp
2 Day Class – $3000.00
Certificate on Completion

Study Manuals and Medical Consent Forms

Live Model

One-on-One Instruction

8 hours of training each day

Business Model

Lunch and Coffee included
Brow Master Class
1 Day BROWS Master Class – $2000.00
Minimum 6 month of experience with PMU machine is required

Certificate on Completion

Live Model

Lunch and Coffee included