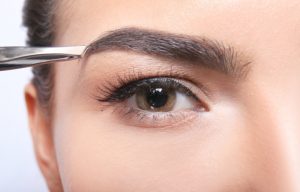 Keeping your eyebrows in check can be a struggle. Plucking keeps them away for longer, but mishaps can be irreversible. Over-plucked brows can become an issue especially now that somewhat fuller brows are back in fashion. "Your hair has a good memory, it does not forget what you have done. Keep plucking your eyebrows and they won't grow back," cautions Dina Basman of Brow Design By Dina.
Shaving your brows to get rid of the strays is another option. "However shaving can be rather short-lived.  Shaving only takes hair even with the skin. So your results won't last very long, but you'll start to see stubble or a shadow in the next day or so. This means you'll have to shave them almost every day to keep your results.
What You Can Do
If you want longer-lasting beautifully shaped eyebrows consider microblading. This is a semi-permanent eyebrow procedure. It's a new, superficial solution to sparse, over-plucked, over-waxed, and thinning eyebrows.  Eyebrow microblading is a way of implanting pigment under the epidermis using a specially designed fine blade that is three times thinner than the blade used in a machine. This allows for the creation of very fine, crisp, realistic hair strokes that do not blur after healing. Best of all, the results can last between one and three years, according to experts. If you are thinking about getting the procedure done, schedule and appointment with Dina today!