Dina's Training: Hear From A Student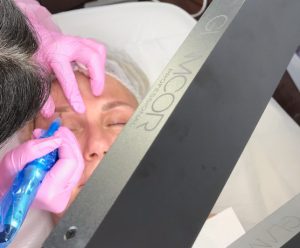 Dina Basman offers several classes teaching permanent makeup and microblading. Students participating in Dina's training learn everything they need to know to start their own permanent makeup and microblading salon. Dina teaches what equipment is needed, how to  design lips, brows and eyeliner, how much pressure is needed while applying the color  and much, much more. Dina herself has certifications in permanent makeup from East Asia, Central Asia, Europe, Eastern Europe and the U.S. She has worked with some of the best permanent makeup artists from around the world.
To learn more about Dina visit: https://browdesignbydina.com/meet-dina/
Graphic Designer Brooke Hawthorne took Dina's Permanent Makeup Class in July. Brooke wanted to explore a new career path. During the 4-day class, Dina taught Brook several microblading techniques for brows, lips and eyeliner. Brooke also learned about color theory drawing and designing brows, lips and eyeliners and several techniques of application.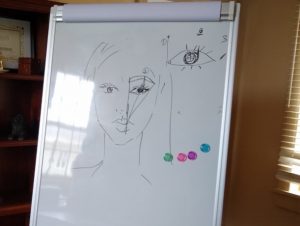 Brooke thoroughly enjoyed Dina's class. "My experience was really great.  Dina is extremely knowledgeable and extremely patient. She explains everything in depth." she said.
During the class, Dina spent a lot of time on important details. She teaches student the correct set up of the work place and she emphasizes the importance of consent forms.  She also spends a lot of time on designing and drawing lips, brows or eyeliner and discusses the design in detail with her clients and students.
"Dina really cares about the students and about what and how  they are learning." Brooke said. "She is just really concerned if you understand what she is teaching you." she added.
For more information visit: https://dinabasman.com/
Permanent Makeup Basics
4 Day Training – $5000
3 Zones: Brows, Eyes, and Lips

Certificate on Completion

Study Manuals and Medical Consent Forms

Business Model

Live Model

One-on-One Instruction

8 hours of training each day

Supplies

Lunch and Coffee included
All Brows
3 Day Training – $4000.00
Microblading, (hand tool)

Ombre, Shading (machine method)

Certificate on Completion

Study Manuals and Medical Consent Forms

Live Model

One-on-One Instruction

8 hours of training each day

Business Model

Supplies

Lunch and Coffee included
Scalp
2 Day Class – $3000.00
Certificate on Completion

Study Manuals and Medical Consent Forms

Live Model

One-on-One Instruction

8 hours of training each day

Business Model

Lunch and Coffee included
Brow Master Class
1 Day BROWS Master Class – $2000.00
Minimum 6 month of experience with PMU machine is required

Certificate on Completion

Live Model

Lunch and Coffee included