Training By Dina Basman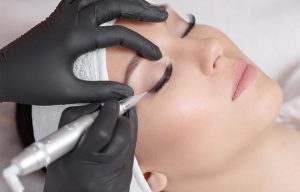 Do you want to learn how to do microblading and apply permanent makeup? Dina Basman offers professional training classes for permanent makeup basics, brow techniques and microblading. Microblading is a semi-permanent eyebrow procedure. It's a new, superficial solution to sparse, over-plucked, over-waxed, and thinning eyebrows. Dina Basman has certifications in permanent makeup from East Asia, Central Asia, Europe, Eastern Europe and the U.S. and has worked with some of the best permanent makeup artists from around the world. Dina offers several classes for you to choose from:
Microblading
In this class, you will learn the tricks and techniques to create beautiful eyebrows. Dina will show you how to measure brows correctly and how to choose the right brow shape for different face types. You will learn about color theory and which pigments to use on different skin types. Furthermore, you will learn which equipment you need and what kind of blades to use. Her training will also include patient management, client consultation and you will learn which consent forms you will need from your clients. All you will need to bring is your own live model.
To find out what else is included in Dina's program visit: https://dinabasman.com/microblading/
Just Brows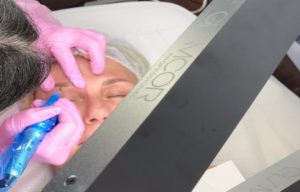 This classes focuses on eyebrows only. Dina will teach you eyebrow drawing and design, as well as color and pigment theory. She will also show you how to position your hand and how much pressure you have to apply when doing your client's eyebrows. You will learn two different eyebrow techniques in this class: powder brows and ombre brows. During the class Dina will supply you with a starter kit and she will teach you how to run a successful business among other things.
To find out more about the Just Brows class visit:  https://dinabasman.com/just-brows/
Permanent Makeup
The Permanent Makeup class teaches you how to work on brows, eyes and lips. You will learn how to draw and design lips, eyebrows and eyeliner. Dina will teach you different types of applications and let you practice on silicone skin and mannequin heads before you apply your new learned skills on a live model. Even after the class is over, Dina will continue to support you.
To find out more about the Permanent Makeup Introduction class visit: https://dinabasman.com/pmu-basics/
Scalp Micropigmentation
In this 2-day class, Dina will teach you how to perform micropigmentation on a scalp. After the completion of the class, you will receive a certificate. Dina will teach you which pigments to use and how much pressure to apply when performing the procedure. All you need is to bring a is a live model.
To find out more details about the Scalp Micropigmentation class visit: https://dinabasman.com/other-pmu-training/
Permanent Makeup Basics
4 Day Training – $5000
3 Zones: Brows, Eyes, and Lips

Certificate on Completion

Study Manuals and Medical Consent Forms

Business Model

Live Model

One-on-One Instruction

8 hours of training each day

Supplies

Lunch and Coffee included
Just Brows
3 Day Training – $4000.00
Microblading, (hand tool)

Ombre, Shading (machine method)

Certificate on Completion

Study Manuals and Medical Consent Forms

Live Model

One-on-One Instruction

8 hours of training each day

Business Model

Supplies

Lunch and Coffee included
Scalp
2 Day Class – $3000.00
Certificate on Completion

Study Manuals and Medical Consent Forms

Live Model

One-on-One Instruction

8 hours of training each day

Business Model

Lunch and Coffee included
Brow Master Class
1 Day BROWS Master Class – $2000.00
Minimum 6 month of experience with PMU machine is required

Certificate on Completion

Live Model

Lunch and Coffee included